WORLD WAR II MEMORIES
War memories of Longthorpe families.
DORIS BAND 1920-2018
Liz Medlock's mother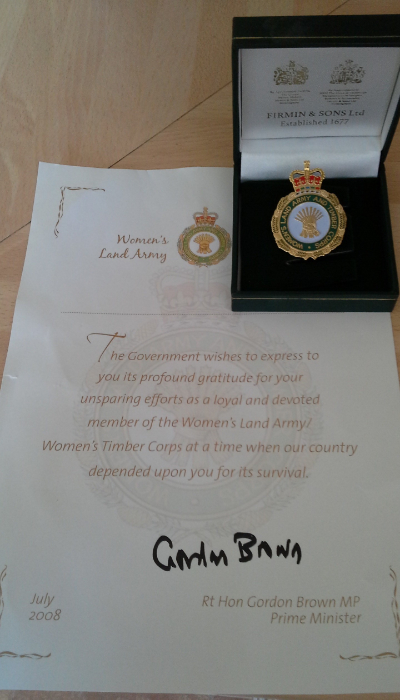 Doris Band wrote the following for Liz's granddaughters on her experience of the war:
'When war was declared in September 1939 our lives were completely changed. I was living in Great Yarmouth working as a shop assistant and decided to enlist in the Woman's Land Army. We were needed to help on the land so that the men could go in the forces - the army, the R.A.F. and the navy, and to make sure enough corn and vegetables were grown to feed those at home. I worked on land which had never been cultivated. Many fields were drilled with seed to produce flax which was used to make cotton which was made into parachutes for our airmen. Tractor driving was my work.'
Doris was sent to work in Wellingborough and Whittlesey where she lived in lodgings. She met Liz's father, who farmed in Whittlesey, and they were married there in 1944.
ARTHUR CHARLES BARLOW 1906-1945
Husband of Longthorpe resident before WW2; not commemorated at St Botolph's.
Taken from research carried out by Imperial War Museum volunteer Jane King.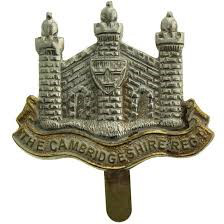 In the 1939 census Arthur's wife, Ivy is living at 4 Holywell, Longthorpe, though we have little other detail about them.
Arthur joined the 1st Battalion of the Cambridgeshire Regiment which spent the first year of the war on defence duties along the Norfolk coast. After training it embarked for service in the Middle East. When Japan entered the war, the battalion was diverted first to India and then to Singapore where it took part in the final battle in which the island fell. Arthur was taken prisoner in February 1942 and survived 3½ years of captivity, probably working on the notorious Burma-Siam railway. Some 13,000 POWs died during its construction. Arthur died on 31st July 1945, shortly before liberation. He is commemorated in Kanchanaburi War Cemetery in Thailand.
STANLEY DAVIES 1914-1995
Lesley Shaw's father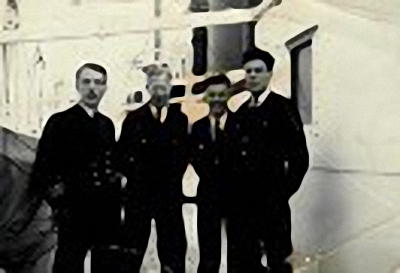 Stanley joined the Royal Navy as an engineer when Lesley was 10 weeks old.
Merchant ships travelled closely packed, in naval terms, in convoy at the pace of the slowest ships covered by one Royal Navy gun vessel, and at the time were going down in numbers. On his way to Canada Stanley's ship was zigzagging around Nova Scotia, being chased by a German submarine, when, as the tide was receding, they ended up on the rocks and the Captain abandoned ship. The following day when the tide had risen, Stanley took a small boat out with the other engineers and between them they recovered their ship. It had been holed by the rocks, but they were able to patch it up sufficiently to be towed to port. The owners of the ship were very pleased and arranged for Stanley to oversee the repairs in Montreal. His Company awarded him one hundred pounds reward for saving the ship when he finally came home in 1946.
JOHN DAVIS REFLECTS ON VE DAY 1945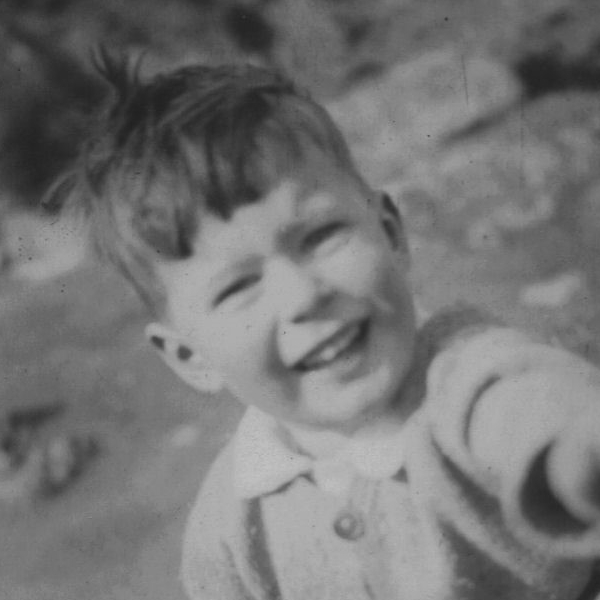 VE Day was the day before my fourth birthday so perhaps I can be forgiven for having no memories of that time. My thoughts were with family and presents! Mother and I lived in Plymstock, east of Plymouth. My grannie was living with us, the 'family' were men and women serving at RAF Mount Batten, constant visitors, who loved playing with a little boy.
I've a letter from my mother to my father started the day before VE Day and finished on VE Day which expresses many hopes for the future.
Memories of Plymouth were the destruction of the centre of the City – a nothingness, flat, empty, desolate. Meaningless isolated structures, empty shells, windows staring blind and gaunt, all grey.
A board with 'Resurgam' on it was nailed to the door of the gutted St Andrew's Church next to the equally damaged Guildhall. In time of course a new City did emerge.
Perhaps 'Resurgam' is an appropriate sign for us as we rise again, 75 years later.
WILLIAM FREDERICK ROY DRAYCOTT 1914-1944
Requiem held at St Botolph's Church Longthorpe, but connection unknown.
Taken from research carried out by Imperial War Museum volunteer Jane King.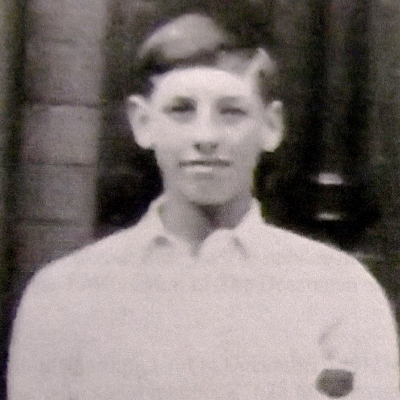 William attended Deacon's School where he was a keen rugby and cricket player. He worked for Lipton's Ltd when he left school. He joined the Grenadier Guards at the start of the war. In September 1944 he was a Lance Sergeant in 1st Battalion when they fought in the Battle of Nijmegen. He died in the conflict; his grave is in the Jonkerbos War Cemetery in the Netherlands. His CO, Lt Col Couldburn wrote to his widow after his death: 'Sgt. Draycott had rendered most valuable service to my Battalion, both in England and abroad, and had proved himself to be both brave and cool-headed – two most valuable attributes. I knew him well myself, and feel I have lost a good friend, and I know what his loss to my Battalion and the Regiment means. Such splendid men are very difficult to replace'.
HUBERT GIBBS 1922-2010
Jenny Flewers' father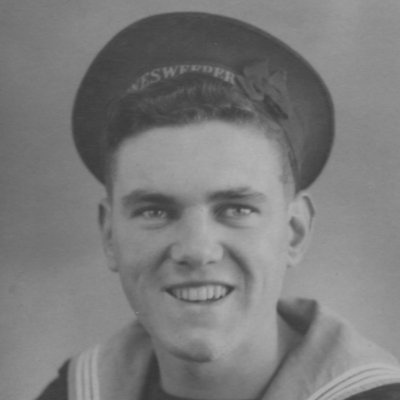 Telegraphist Hubert Gibbs served in The Royal Navy throughout WW2, volunteering on mine sweeping ships. He sailed The Meditteranean as well as being land based in Crete, Benghazi and Alexandria. He was on HMS Lyme Regis as part of the Eastern Task Force and later The Western Task Force. In 1943 Hubert was awarded The Special Order of the Day for outstanding conduct while serving on H.M. Trawler Avalanche. He dived overboard in a heavy swell and managed to save 6 of 7 American airmen who had crashed into the sea. D Day saw him play a major part off Normandy on the flagship Scylla. Here is the final verse of a poem he wrote on First Watch 'D+2' 1944.
As the bombers drone Vian speaks and the cruisers move to the fore;
Their hundred guns point France-wards, the Hun prepare to blast'
So zero-hour strikes at length, they belch thunder at the shore!
All Heaven shakes and Satan quakes- D-DAY HAS DAWNED AT LAST.
MARY THERESA GIBSON (Née STAPLETON) Born 1926
Caroline Worth's mother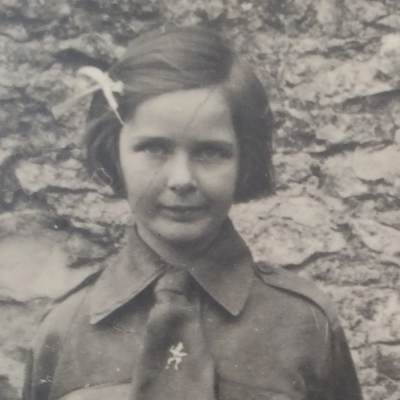 Mary was only 13 when war broke out. She was evacuated from London with her school to Sydenham House near Launceston. She remembers that if there was a raid the whole school would gather in the cellars of the house and to their surprise they found that the stained glass windows from Exeter Cathedral were being stored in the basement of the school.
At the outset of the war it was quite exciting being a child not frightening. However she does remember being frightened when her mother, halfway through the war, decided to return from Devon to the London house in Kensington to be with her father, who was a fire warden.
Mary and her brother and sister used to return to London during the holidays so she did experience the V bombs and rockets falling, which was very scary. She vividly remembers standing outside Buckingham Palace and being very excited to see Winston Churchill, King George VI, Elisabeth, his wife, and Elisabeth and Margaret on the balcony waving.
ROBERT GIBSON 1926-2015
Caroline Worth's father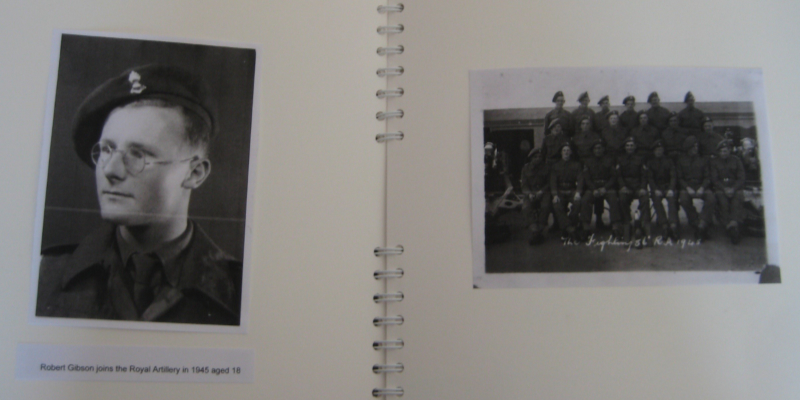 Robert Gibson was only 13 when the war broke out. In Jan 1945 when he was 18, Robert joined the gunners and was sent up to Lancashire, near Blackpool, to train. In July he was sent to Burma, sailing up the Howgli River to Burma and Rangoon, ending at a permanent base at South Shan States in East Burma, a very good camp 4,000' up, so a very pleasant climate. In Burma, Robert initially lined up the guns and occasionally fired them, later becoming a postal orderly for the regiment.
Robert did not see much active service as the war had ended and his regiment was around to maintain a British presence. He spent two years in Tampin, Burma, on the road to Mandalay where the climate was very sticky and humid.
Robert got to know the padre of the regiment who must have been a major influence on him because while in Burma he decided to become a priest.
FRANK GILES 1912-1943
Commemorated on plaque on south wall of chancel of St Botolph's church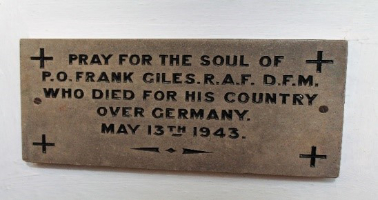 Pilot Officer Giles was Navigator in the crew of an Avro Lancaster Bomber (of 156 Squadron, based at RAF Warboys). It was one of 572 aircraft sent to bomb Duisburg on the night of 12th/13th May 1943. He was killed when his plane, together with 33 others crashed in that target area. He was awarded the Distinguished Flying Medal in March 1943 when an Acting Flight Sergeant. He was promoted Acting Warrant Officer in April and commissioned Pilot Officer posthumously.
He was 31 when he was killed and had flown 24 missions between October 1942 and his death. These were mostly to Germany but also targets in northern Italy and France. He lived in Scunthorpe with his wife Winifred and their 2 children. His remains are buried in Belgium. His mother lived in Alderman's Drive, hence his link with St Botolph's. He is also commemorated at the International Bomber Command Centre at Canwick near Lincoln.
DICK GILL AND HIS FAMILY IN WORLD WAR TWO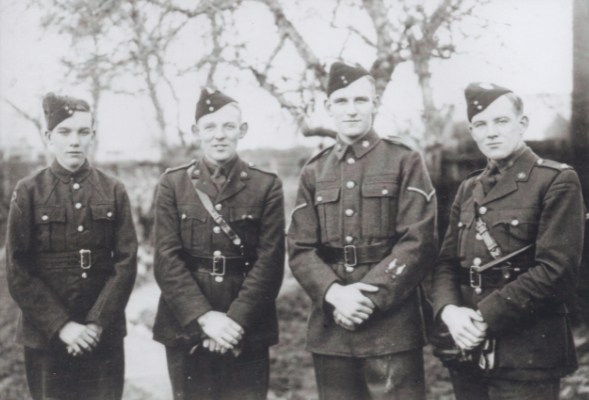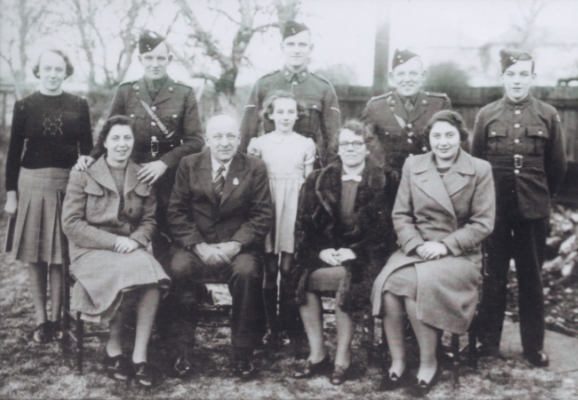 Dick's three older brothers, Bert, Alex and John, were in the TA when war broke out. Dick was in the King's School army cadets and the 115 Squadron Air Training Corps at Westwood airfield.
Whilst at King's, Dick volunteered to join the Royal Marine fast track entry for sea service, going out to Australia after naval gunnery training. He served on two cruisers (Argonaut & Euryalus) in the British Pacific Fleet. With two other ships, as the Kennedy Force, they took Hong Kong dockyard. The battleship Duke of York with Admiral Fraser on board arrived and the Japanese garrison in Hong Kong surrendered.
Bert was a senior officer with the Northamptonshire regiment in Madagascar, then with the 8th Army at Alamein. He also served in the Mediterranean and in Germany.
Alex was also in the Northamptonshire regiment, in France and on Dunkirk beaches for 3 days before being rescued. He served in Madagascar and in India.
John trained in signals and in the Military Police. He went to France on D-day +3 or 4 and on into Germany.
STAN HOGG 1918-2004
Jim Hogg's father
Stan enlisted in the Royal Berkshire Regt, 7th Bn in Ipswich. His battalion crossed from Portsmouth to France on June 8th 1944 (D-Day+2), landing on Juno Beach. He later took part in Operation Market Garden. In August 1944 his regiment was disbanded as so many men had been killed. He joined the 7th Bn, Somerset Light Infantry, rising to the rank of sergeant.
After the war he was awarded British war medals and the Dutch Bronze Cross for his gallant behaviour and "an uncommon devotion to duty during the liberation of Netherlands enemy-occupied territory".
RONALD CHRISTOPHER HOPE-JONES 1920-2000
Ken Hope-Jones' father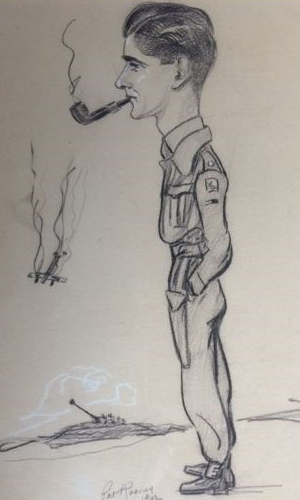 Ronald served in the 1st Battalion, the Border Regiment. In 1943 the Battalion was ordered to North Africa. A major offensive was being planned – to invade and capture Sicily and proceed up the Italian mainland. The Brigade's task was to fly troops and equipment by night to Sicily in gliders tugged by American C-47s.
The glider element of the operation was a disaster. At least one glider found itself in Malta; three landed back in North Africa; most came down in the sea having been prematurely released.
Ronald's glider was released 20 miles off-course, landed in the sea in complete darkness, four to five miles from the shore. Most men decided to stay with the plane, but eight decided to brave the choppy sea and swim for it. Only Ronald and the commanding officer reached the shore and were transported back to North Africa.
In 1944 Ronald's battalion took part in Operation Market Garden – another disaster. He was captured at Arnhem and spent the remainder of the war in a prison camp. He was fond of telling his family each Christmas that Christmas 1944 was his best ever.
LILIAN MARY GWENERYS HOWE (NEE AMOS) 1912-1990
Linda Verdegem's mother; bottom row left in group photo.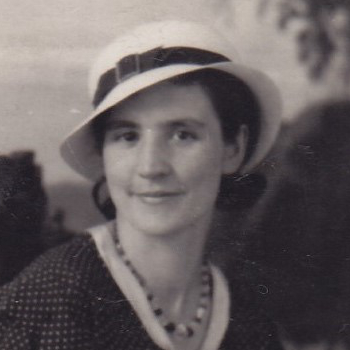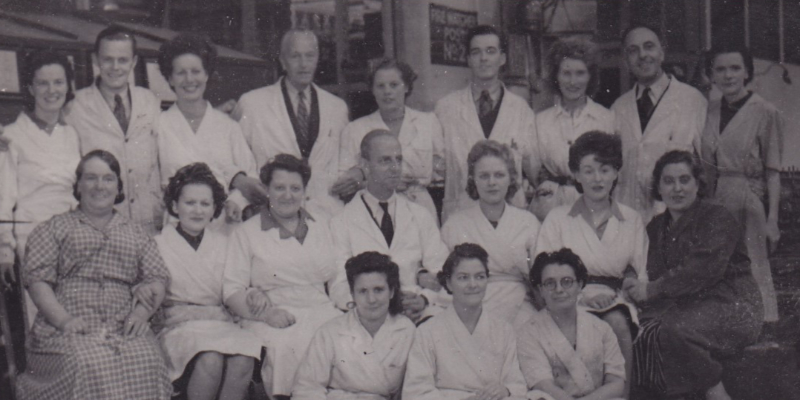 Linda's beloved mother, Gwen, was born on the 8th May 1912 in a small rural hamlet in Herefordshire – think 'Cider with Rosie'. Later she 'escaped' domestic service for London where she worked as a chambermaid in large hotels, but when war broke out she immediately transferred to long arduous shifts making aircraft parts for Rootes.
She lived in the heart of London all through the war and terrible bombing and though had many 'near misses' came through unharmed until she was nearly killed on her 33rd birthday – VE Day. Joining the vast crowds for celebration there was with such a press of revellers she was pushed up against a plate glass window and could not breathe. Luckily, a burly serviceman managed somehow to lift her up and so she was rescued – another lucky escape and no it didn't turn out to be Linda's Dad!
BILL HUSTWAYTE'S MEMORIES OF THE WAR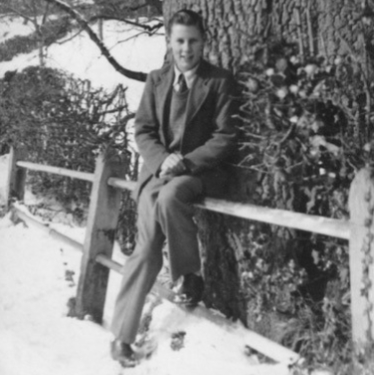 Bill in 1945
Bill lived in Romford Road, Pembury, near Tunbridge Wells in Kent with his parents and brother in the war. His earliest recollection is the announcement of the outbreak of war as the family gathered around the radio. Much material was found and stitched to make the mandatory blackout curtains. They stayed in place until VE Day on 8th May 1945.
The Battle of Britain was fought overhead. The small 303 bullets fired from the Spitfires and Hurricanes landed in the garden and the brothers rushed out to pick them up ... only to be told it was too dangerous and only Dad could go out!
The blitz on London lasted night after night. The glow of the fires could be clearly seen from their bedroom windows. The house right opposite was bombed; no one was killed but a child's cot hung from the bedroom. The landings in France on 6th June 1944 were far from the end as the unmanned missiles rained down even on their small village.
VE day was announced on the self-same radio by Winston Churchill on 8th May but Bill remembers very little happening to celebrate in Romford Road.
RON JACKSON'S MEMORIES OF VE DAY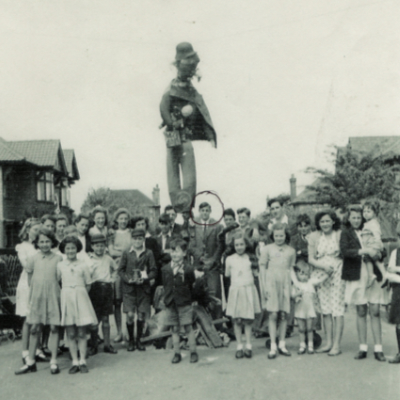 The Woodfield Road Gang VE Day 1945
As a young teenager during the war I wasn't really aware of the full horror of it all. I remember it as an exciting time.
We used to cycle out to the Deenethorpe airfield. We were able to "liberate" quite a lot of stuff which we sold at school. Spent .5 calibre cartridge cases went for 3p, Perspex was 6d a square foot and cordite, which we extracted from live ammunition, was negotiable.
I was a leading light in the Woodfield Road "gang". On VE Day there was a party in the road, complete with a bonfire and a guy dressed as a German. Needless to say the fire was augmented by some cordite fireworks and some flare powder. Above is an old photo of our group of about 25 youngsters. Considering we had been through nearly five years of rationing and scarcity we all look remarkably fit and could stand comparison with any similar random group of today's young folk.
ROBERT "ROBBIE" EDWARD MAIR 1921-1943
Daphne Mair's father's cousin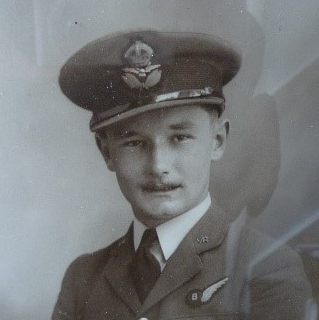 Flying Officer Mair was killed in a Lancaster (of 207 Squadron, based at RAF Spilsby). It was his first mission and the crew had not flown together before. Aged 22, he was the Bomb Aimer. His plane disappeared during its return from a huge bombing raid, to Berlin on 23 November 1943. The crew of 7 were all but the Navigator 24 or younger. Whether the plane exploded and disintegrated or crashed into the sea is unknown.
Robbie was single, an only child and he lived for long in family memory. His mother remained hopeful that because he was "missing in action", he might have been injured, lost his memory and would one day return. Neither of his parents ever fully came to terms with their loss.
Robbie is commemorated at the International Bomber Command Centre at Canwick near Lincoln and at the Commonwealth War Graves Air Forces Memorial at Runnymede for those killed who have no known grave ("NKG")
A note from Daphne Mair about Frank Giles and Robbie Mair:
By the end of the Second World War, 55,573 members of RAF Bomber Command had been killed. Mostly these missions attacked Germany's strategic, military and industrial targets, such as Duisburg's Thyssen steel works and large inland port. Because of the controversy over other raids directed mainly at civilians, no national memorial existed until 2012 (Green Park, London). In May 2018, the International Bomber Command Centre opened at Canwick, Lincoln.
Let us remember them with honour and be thankful for their part in ensuring our liberty.
BILLY MILLER 1915-1942
Michael Kennedy's uncle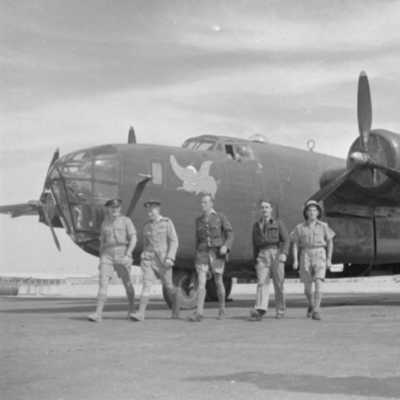 Billy fought in the Battle of El Alamein described by Winston Churchill as the end of the beginning of the war. Billy came from Limavady, Northern Ireland. He served in the Royal Air Force with No 159 Squadron, flying in a B24 Liberator Mk II bomber in the North African campaign leading up to El Alamein. His aircraft AL566 is recorded as "shot down by flak at Benghazi" on 15th July 1942. His life is commemorated on the Alamein Memorial Air Force's panels, Alamein.
Billy married Christina (Ina) Dewar on 6th July 1940 at St Leonard's Parish Church in Perth. His niece, Peggy, remembers the day the dreadful news of Billy's death came through to Belfast from Limavady. She remembers seeing her mother Isabel Kennedy, Billy's eldest sister, in tears and her switching off the lights. We cannot imagine poor Ina's pain.
If he could, Billy would ask that we simply remember him and be proud of the crew of 159 Sqn Liberator AL566 and their bravery.
NORMAN GEORGE ORRELL 1886-1944
Buried in St Botolph's churchyard, near southern boundary of south section.
Taken from research carried out by Imperial War Museum volunteer Jane King.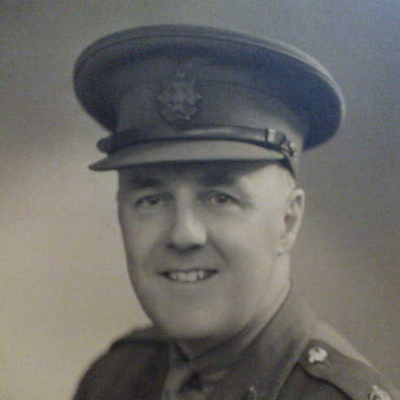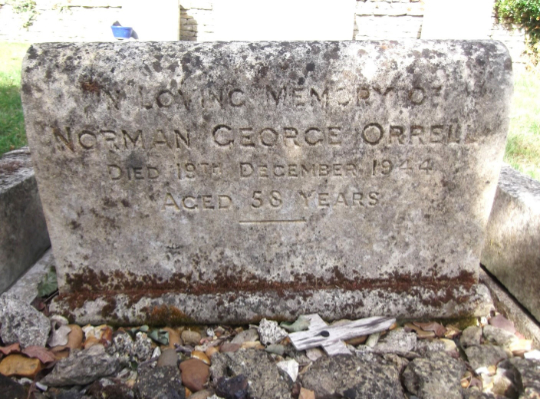 Norman fought in both World Wars. He was born in Blackrod, Lancashire and was a head teacher living in Wigan in the 1911 census. In the First World War, he joined the East Lancashire Regiment and became a lieutenant, fighting in France in 1917. Between wars he served in Africa in the King's African rifles. Returning to Britain he lived in Westminster, London and then Uckfield, Sussex. In 1940 he became a lieutenant in the Border Regiment, a Home Defence Battalion, and was serving in Peterborough in 1944 when he died. His home was Carleton Lodge, 85 Thorpe Road. His family chose a stone of their choice rather than a Commonwealth War Graves Commission gravestone.
PETER RONALD WASTELL POYSER 1920-1943
June Vajda's uncle and godfather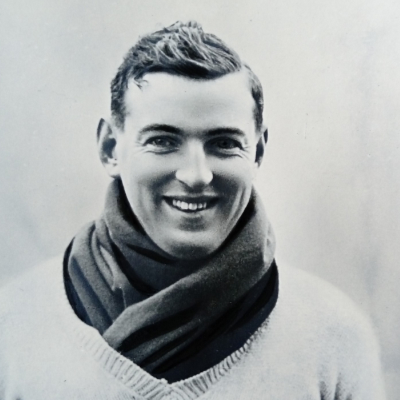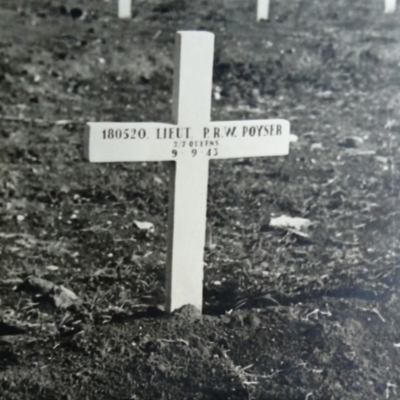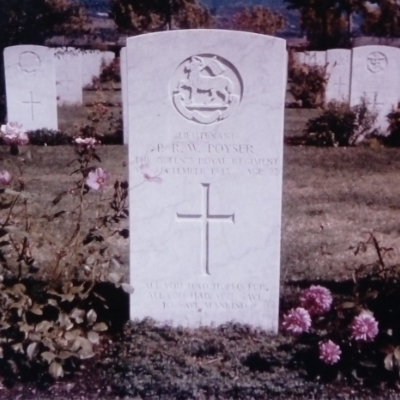 Peter was at Brasenose College Oxford, where he was a very keen rower. He fought with the Queen's Royal Regiment in the Tunisian campaign, travelling from Liverpool, via Cape Town to Basrah, then from Cairo through Alamein, Tobruk, Benghasi and Tripoli. In a letter home on 19th May 1943 he says he is a "proper Desert Rat", continuing, "It was not much fun while it lasted, especially on one occasion where I took out a patrol into the enemy lines."
His next letter home says, "This letter comes from the middle of the Mediterranean. I have just censored my platoon's letters and they all say, 'Don't worry, I'll be OK.' I won't say that because I feel you will be, not worried, but somewhat anxious, and also because there must be a certain amount of good and bad luck in war, and success usually entails a proportion of suffering." His mother got the letter on 17th September. He died on 9th and was buried on 11th September.
June writes:
When the Revd Michael Bullock left St Botolph's, Longthorpe, he went to Naples and Bob and I visited him on VE Day 1995. A memorial in his church reads, "This chapel of S Martin and S George has been raised to the Glory of God in remembrance of those who fell in the landing on the beaches in this area in 1943 and as a perpetual monument to the ideal of chivalary and brotherhood which inspires them +". Michael showed us Peter's name in the Book of Remembrance. Requiescat in pace.
RAYMOND DENIS STANFORD 1921-1942
Included in Roll of Honour of War casualties printed on programme for the official opening of Longthorpe War Memorial Hall 6/3/1947; not commemorated at St Botolph's.
Taken from research carried out by Imperial War Museum volunteer Jane King.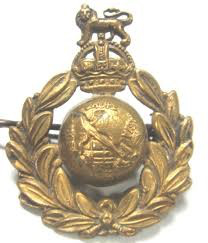 Raymond was born in Stanground. He worked for Messers Quality Thomsons, grocers with branches in Cowgate and King's Street, Peterborough. He joined the Royal Marines in February 1940. Two years later he was on HMS Prince of Wales when she was sunk. He survived and was taken to Singapore to a wireless station. When Japanese forces invaded Singapore there were seven days of fighting. Raymond was listed initially as missing, then officially dead on the day after Singapore fell. His mother lived at 1 Station Road, Peterborough.
Note: The Roll of Honour published for the opening of Longthorpe Hall was compiled from records of the Longthorpe "Comforts Fund" as well as residents of the Parish of Longthorpe. Comforts Fund raised money and made items to send to front line troops.
PAT TAYLOR'S MEMORIES OF VE DAY
Pat lived in Dartford, Kent. Her father was in the RAF and her mother drove a horse and cart on a milk round during the war. When need be, Pat was evacuated with her granny to her great aunt in Northampton.
On VE Day her father was home and her parents, who were keen royalists, took her to London for the day. Pat remembers it as a "grand day. The crowd was friendly and there was a beautiful atmosphere". They spent many hours during the daylight hours going from place to place. They didn't stay for the dancing in the evening, but Pat remembers seeing the princesses Elizabeth and Margaret going past in a car. She was with her parents, on her father's shoulders, outside Buckingham Palace when Winston Churchill came out on the balcony with the King, Queen and the two princesses and says she will never forget that moment.
ARCHIBALD (ARCHIE) JOHN THORBURN 1917-1941
Inscription on his parents' headstone in the north section of St Botolph's churchyard commemorates his death; no memorial inside the church.
Taken from research carried out by Imperial War Museum volunteer Jane King.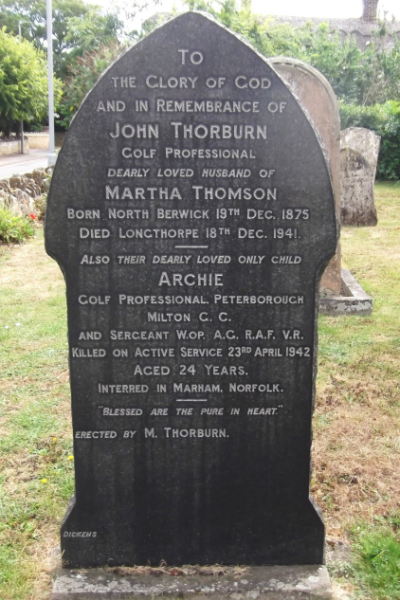 Archie was born in Renfrewshire. He and his parents came to Peterborough in the 1930s where Archie worked as a golf professional at Peterborough Milton Golf Club. He "won the esteem of all the members by his pleasant unassuming manners, his sporting conduct, and his care for the welfare of the game." (Peterborough Standard obituary.) Archie joined the Royal Air Force Volunteer Reserve in June 1940, serving in Bomber Command as a Sergeant (Wireless Operator/Gunner). He was one of a 7-man crew which took off from RAF Marham in Norfolk bound for Rostock. The aircraft lost power from the port engine shortly after take-off and crashed near Clenchwarton School near King's Lynn, killing all aboard. Archie's address at the time was 301 Longthorpe and a memorial service was held for him at St Botolph's.
The epitaph on his gravestone in Marham Cemetery, Norfolk, is "From sky to earth for liberty I fell. I fought, I won my wings again. Farewell".
WILLIAM HOLMES LISTER URTON 1908-1982
Pat Hope-Jones' father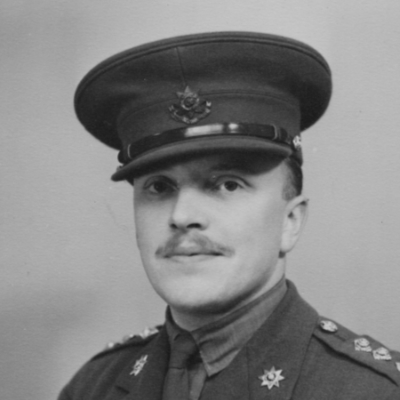 Bill joined the Territorial Army in 1936, commissioned into the 4th Battalion of the East Yorkshire Regiment. He divided his time between his career as a Conservative agent and Territorial Army matters until war broke out. He was initially sent to France. At the time of the Dunkirk evacuation he was in Le Mans and, having missed that opportunity to escape, he had to walk to St Malo and was taken on a fishing boat to Plymouth. He later served in the Middle East and North Africa. He took part in the 2nd Battle of El-Alamein as part of the Eighth Army in the North African Campaign, when the Axis army of Italy and Germany under Field Marshal Rommel was defeated. In 1945 he was sent to Oslo to assist with the liberation of Norway. This proved to be a much more agreeable mission from which he brought home his bride, Pat's mother.
ERIC UPTON 1921-2000
Pat Hemsley's father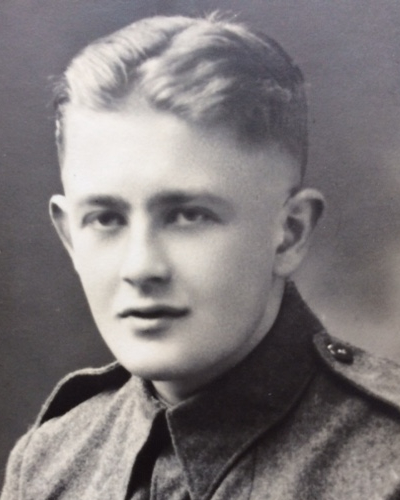 In Eric's account, written in his later years:
"We crossed the Elbe of the 2nd of May but moved back to Nolta near Lubeck and by the 4th of the month we had more than 30,000 prisoners. They poured in defeated, dejected – some boys of fourteen and other grey-haired and in their sixties. Mostly on foot but some on horseback and farm carts, the remains of their motor transport, and I saw one staff car and I still have the pennant from its wing. Arms and equipment were dumped by the roadside for miles around. The one object was to avoid surrender to the Russians.
"All that could be done was to herd them into a field and guard them with machine guns. Food was not plentiful for us and all that could be found for them was biscuits and some bully beef. Our tea leaves were saved for them.
"On May 5th "cease fire" was sounded by Battalion GQ bugler and May 8th became VE Day. For some days afterwards we were concerned with prisoners and things did not change much for us."
DENNIS URWIN 1917-1943
Buried in St Botolph's Church graveyard (to left of north door)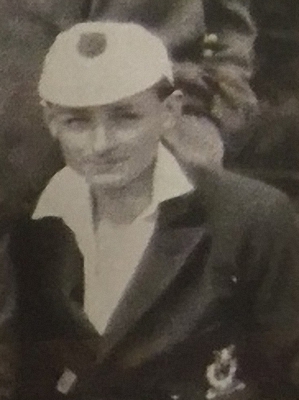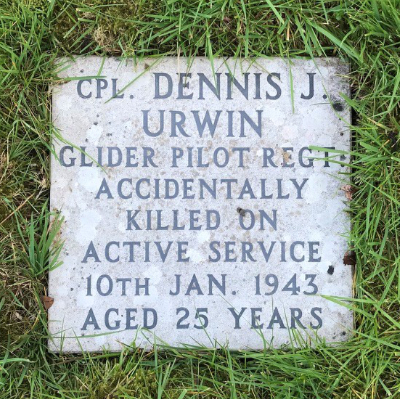 Dennis lived with his wife, Vera, née Frost, and son, born 1941, at 347 Longthorpe, the garage. This was his grandfather's business in which he worked after he had left his secondary school, Deacon's. A keen sportsman, he joined the Territorial Army before the war and later served in the Army Air Corps. He was killed when an artillery shell fired from a gun in practice struck a camp building in Wiltshire.
STEVEN VAJDA 1901-1995
Bob Vajda's father
In 1939 Steven left Vienna to join the rest of his family in England. Winston Churchill had issued an order that all enemy aliens arriving in England had to be interned and Steven, being Austrian, was sent to the Isle of Man. In order to pass the time the internees set up a scheme to give lectures; Steven's subject was mathematics. He had written many mathematical papers in the past and as a result of reading one of these papers a member of staff at the Admiralty Scientific Service realised that Steven's knowledge could help the war effort. Steven was traced to the Isle of Man and a month later he was working on top secret material at the Admiralty. He did not see active service because he was in a reserved occupation. Whilst he had been on the Isle of Man the rest of the family lived on national assistance. Steven was one of the first people, together with his family, to be naturalised when the war was over.
ALBERT VERNON
Lesley Shaw's uncle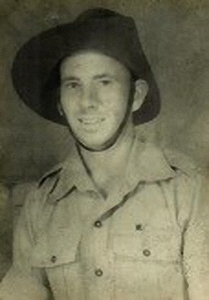 Albert was called up at 18 and deployed into Burma. The conditions were appalling, constant rain, mud, real forest conditions. Albert returned to his billet after a 12-hour sentry duty to find his partner in agony with a swollen face and severe toothache. Albert told him to stay in bed and he would do the next 12 hours for him. Afterwards he returned to his billet and found his friend had been stabbed to death, by whom no-one knew. Maybe one of the other soldiers had put the man out of his misery as, of course, the enemy was not far away.
Albert came home a broken and very sick man. He went missing on his way to be discharged and the police came looking for him. His mother told them she had herself put him on the relevant train. Albert was eventually found having taken ill on the train and transferred to hospital very poorly indeed. He recovered eventually, after much TLC from his mother, but he was never again able to wear proper shoes.
JOY VINCENT 1906-2006 & G VINCENT 1906-1985
Jane Hogg's aunt and uncle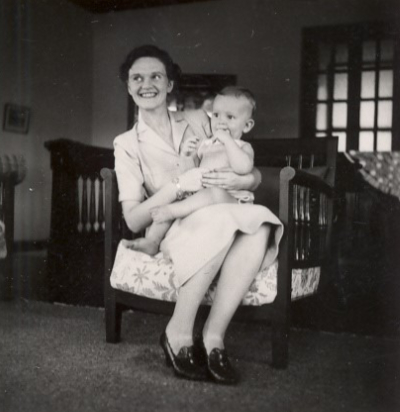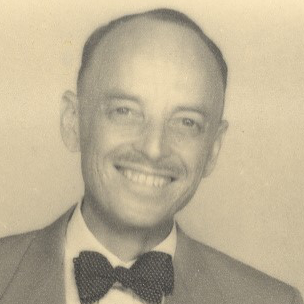 When war broke out G, Joy and their infant son, John were in Penang where G worked for the manufacturers of Tiger Beer, Fraser & Neave. G was already in the Singapore Volunteers in the Engineering Unit and fought as a gunner in the Searchlight Battery Unit when Singapore fell. He was taken prisoner by the Japanese, held in Changi jail, and then sent up-country to work on the infamous "Railway of Death". He was released in August 1945.
Joy and John were evacuated to Australia and then New Zealand where they lived with relatives until the end of the war. They were returning to Britain when the Japanese capitulated in 1945. In her memoir she wrote "You can imagine the excitement that swept our evacuee ship filled with wives and children of Japanese POWs."