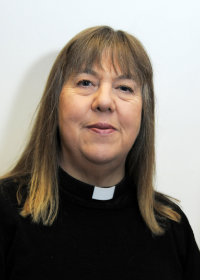 Rev. Jackie Bullen
Vicar
and Assistant
Rural Dean of
Peterborough
Calendar
Sunday 28th February
9.00am Eucharist live streamed
10.00-10.30am Families Together on Zoom
6.00pm Evening Prayer on Sunday
9.00pm Compline on Zoom
Monday 1st March
9.00am Morning Prayer on Zoom
10.30am Barbara's Home Group
9.00pm Compline on Zoom
Tuesday 2nd March
9.00am Morning Prayer on Zoom
10.30am Alpha+ on Zoom
9.00pm Compline on Zoom
Wednesday 3rd March
9.00am Morning Prayer on Zoom
11.30am-12.30pm Coffee & Chat on Zoom
3.00pm Lent Book Club on Zoom
9.00pm Compline on Zoom
Thursday 4th March
9.00am Morning Prayer on Zoom
2.15pm MU on Zoom
9.00pm Compline on Zoom
Friday 5th March
9.00am Morning Prayer on Zoom
3.00pm 'Ways with Words' on Zoom
9.00pm Compline on Zoom
Saturday 6th March
9.00am Morning Prayer on Zoom
9.00pm Compline on Zoom
Home
Welcome to the web site of the Parish Church of St. Botolph Longthorpe, which is situated at Thorpe Road, Longthorpe, Peterborough PE3 6LU.
An important letter from the Vicar - Wednesday 13th January
Dear friends,
As you are aware, the situation regarding COVID19 restrictions is under constant review. We face an ever-changing and challenging set of circumstances. Earlier this week, in light of this, Bishop Donald wrote to all his clergy to offer his support and advice regarding opening church buildings to the public. You can read his bulletin below.
After reading the Bishop's advice and in consultation and agreement with the PCC, it has been decided to move all our services and meetings online until further notice.
This does not however mean that we are failing to fulfil our obligation and privilege of worshiping together. Our Sunday Eucharist will be streamed on Facebook 'live' at 9am each week and then a recording made available on YouTube later that morning. Evening Prayer on Sunday at 6pm will continue to be available on Zoom each week.
Morning Prayer will also take place at 9am every day except Sunday, Coffee and Chat on Wednesdays at 11.30am and the usual round of meetings will all happen on Zoom. The links are available from me or on Saturday's Pew News each week. All are welcome!
We are currently planning a Lent Course, Bible Study and other ways of coming together virtually to grow in faith. Our outreach to the community and commitment to being the body of Christ together has not changed. The church is the people, not the building.
This situation, along with Church of England and Government guidance and regulations, is being kept constantly under review. Although the building must for the time being remain closed for public worship and prayer, the church is very much still 'open for business' and I am always available to you all via phone, email or Zoom.
'For through him we both have access to the Father by one Spirit. Consequently, you are no longer foreigners and strangers, but fellow citizens with God's people and also members of his household, built on the foundation of the apostles and prophets, with Christ Jesus himself as the chief cornerstone. In him the whole building is joined together and rises to become a holy temple in the Lord. And in him you too are being built together to become a dwelling in which God lives by his Spirit.' (Eph 2.18-22)
The letter from Bishop Donald - Sunday 10th January 2021.
Dear friends
Open or Closed?
I do hear the frustration of those who wish I would give a clearer steer, or preferably an instruction, about closing our churches for public worship. I do understand the cost and the pain of making these decisions in the parishes. I am aware of the tensions that can be caused between clergy and some of the laity. As far as I can legally, I will try to help. Do feel free to share what follows with your PCC and parishioners, if that might be useful.
Last March it was relatively easy. The government used emergency powers to close churches. All I had to do was tell the clergy to obey the law, and the government, for the sake of people's health and wellbeing. This time, to my surprise and dismay, both private prayer and public worship in church buildings were exempted from the lockdown regulations. I cannot legally tell a parish to close a church if the law permits it to stay open; all I can do is give permission for the suspension of public worship if the incumbent and PCC so request.
A church being open for private prayer is entirely a matter for the PCC. I have no authority over this. In normal times I would strongly encourage such opening, but these are not normal times. I think that now we need to follow the government's line and encourage people to stay at home except for what is essential.
On the matter of public worship, I repeat and clarify what I said last week: any parish which requests my permission to suspend public worship (technically, my dispensation from the relevant canons) will receive it, and this permission will remain in force as long as the parish is under government lockdown or in Tier 4 or Tier 3 of the coronavirus restrictions. I also repeat the permission I gave last year, for any priest holding my licence to preside at Holy Communion in their own home for a recorded or livestreamed service, again until the present restrictions are lifted.
You may be interested to know that around half our clergy have so far requested and received permission to suspend public worship, and that number is growing every day. If I am asked for my advice, it is certainly that you should close, while making whatever provision you can for your people to maintain their relationship with God and with one another.
This is a matter of serving the common good, of caring for the most vulnerable, of protecting your people and communities from a deadly disease. Please note that, unlike last year, there have been some hundreds of cases of the virus spreading through church choirs and congregations. It seems that the precautions we have been taking in our churches, for which I thank you so much, are pretty effective, but that the socializing which is still continuing before and especially after the act of worship, and the relative informality of choir rehearsals and robing, are causing the problem. If you could ensure that your people did not stop to talk to each other at all, they might be safe, but that is well-nigh impossible – and in any case fellowship is a major part of the reason we meet together, and is a basic human need.
You may have heard that some directors of public health (not yet in our area) have asked for places of worship to be closed down, as has the Mayor of London. I wouldn't be surprised if the government tightens the lockdown regulations to include churches at some stage – that is my view, and not based on any inside knowledge!
If you choose to remain open, please note that the rules on music have been tightened, so that singing is only permitted if it is essential to the act of worship (this applies to some Muslim worship, but I very much doubt that it applies in the Church of England). Please also make every effort to discourage socializing of any sort, not least in the vestry, on the way out of church, and in the car park.
Bishop Donald
With love and prayers
Jackie
The Rev. Jackie Bullen
The Vicarage, 315 Thorpe Road, Longthorpe, Peterborough PE3 6LU
Tel: 01733 263016. Email: This email address is being protected from spambots. You need JavaScript enabled to view it.
Parish Nurse
Eddie Miller
Tel: 07801 436408 Email: This email address is being protected from spambots. You need JavaScript enabled to view it.
For further details see information under Church Life
St Botolph's is committed to safeguarding the welfare of all young people and vulnerable adults.
Safeguarding
Longthorpe Safeguarding Policy
Promoting a Safer Church
(House of Bishops)
Safeguarding Officer: Mrs Claire Drake Tel: 01780 783303