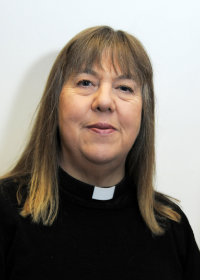 Rev. Jackie Bullen
Vicar
and Assistant
Rural Dean of
Peterborough
Calendar
Sunday 9th May
9.00am Eucharist *
10.00am Families Together on Zoom
6.00pm Evening Prayer on Sunday on Zoom
Monday 10th May
9.00am Morning Prayer on Zoom
10.30am Barbara's Home Group on Zoom
Tuesday 11th May
9.00am Morning Prayer on Zoom
Wednesday 12th May
9.00am Morning Prayer on Zoom
11.30am Coffee & Chat on Zoom
7.30pm START course on Zoom
Thursday 13th May
9.00am Morning Prayer on Zoom
10.00am Ministry Leadership Team on Zoom
7.00pm PCC
Friday 14th May
9.00am Morning Prayer on Zoom
Saturday 15th May
9.30am Quiet Morning on Zoom
* Available on Facebook and YouTube under 'Longthorpe Church'.
Notices
Electoral Roll
The updated Electoral Roll is on display on the notice board in the porch at church. A copy is also attached to this email. If you are not on the Roll and would like to be, or your entry is not correct, please contact Will Hendry:
william.hendry@kier.co.uk.
You do need to be on the Electoral Roll if you wish to vote at the Annual Parochial Church Meeting (APCM) which will take place on 27th May.
Creactive Friday
Friday 14th May from 11am
Michael Taylor will demonstrate preparing hanging baskets.
Quiet Morning
Saturday 15th May
9.30-12.30 on Zoom
"Come, Holy Spirit come!"
Quiz Evening
Friday 21st May at 7.30pm
Start Course
Each Wednesday at 7.30pm until 26th May.
Please pray for the participants and leaders.
Foodbank
The Peterborough Foodbank is currently short of: Long life Fruit Juice, Tinned Fruit, Toilet Rolls, Tinned Vegetables, Men's Toiletries Donations can be left in the boxes in the church porch or in supermarket drop-off containers.
Home
Welcome to the web site of the Parish Church of St. Botolph Longthorpe, which is situated at Thorpe Road, Longthorpe, Peterborough PE3 6LU.

What's going on at St Botolph's Church?
April 2021
A new floor is being laid at the west end of the church
Rotten and insecure woodwork has been removed
Rotten and loose plasterwork has been renewed
The organ has been taken 'off site' for a major, long overdue, overhaul and upgrading, which includes additional pipes
The chancel screen is being relocated
The choir stalls and pulpit have been removed
This is all part of the project for 'Honouring our Past and Looking to our Future' which has been nearly 14 years in preparation, consultation and planning.
The congregation gave overwhelming approval to the proposals following presentations in 2012 and the Parochial Church Council gave formal approval to proceed in 2013.
Extensive consultations were held with appropriate statutory bodies, including English Heritage, The Victorian Society, The Church Buildings Council and the Diocesan Advisory Committee before authority to proceed was granted by the Diocese.
Our Project Vision
Undertake urgent renovations to preserve historical features
Allow more inclusive and flexible worship
Become an intimate venue for musical events and support the development of young musicians
Grow as a health and wellbeing 'hub'
Celebrate our history
Improve the church layout for key life events and enable access for all
For more information see the Our Project web page or the Information Board in the church porch.
Vicar
The Rev. Jackie Bullen
The Vicarage, 315 Thorpe Road, Longthorpe, Peterborough PE3 6LU
Tel: 01733 263016. Email: This email address is being protected from spambots. You need JavaScript enabled to view it.
Parish Nurse
Eddie Miller
Tel: 07801 436408 Email: This email address is being protected from spambots. You need JavaScript enabled to view it.
For further details see information under Church Life
St Botolph's is committed to safeguarding the welfare of all young people and vulnerable adults.