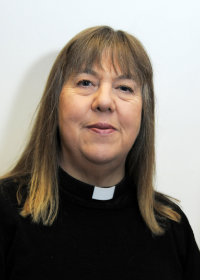 Rev. Jackie Bullen
Vicar
and Assistant
Rural Dean of
Peterborough
Church
Re-opening
At St Botolph's we welcome the announcement that places of worship may open from 15 June for supervised private prayer.
However, we, like most places of worship, have been looking towards 4 July.
We're hoping we can bring this forward but our primary concern is safety.
There's much to be done and we are working to get things ready for opening the building as soon as possible.
Rev'd Jackie and the ministry leadership team
WW2 Memories
Friday 8th May was the 75th anniversary of VE Day. 

With the current lockdown we were unable to remember those who served in and lived through the second World War in the church building itself.

We therefore asked church members for memories and stories from their own family.  To these we have added research carried out by Imperial War Museum researcher Jane King on men with a Longthorpe connection who died in the war.

Click on this link to read the stories.  They range from the incredibly sad loss of young men killed in action to tales of stoicism and survival.  They include memories of VE Day itself when Victory in Europe was declared.
Jonathan Craymer has written some new, topical words to a well-known war-time tune, which you may like to listen to by clicking here.
Home
Welcome to the web site of the Parish Church of St. Botolph Longthorpe, which is situated at Thorpe Road, Longthorpe, Peterborough PE3 6LU.
In the light of Government and Church of England advice on facing the corona virus challenge we are currently operating in a different way.
In accordance with the directions of the Archbishops of Canterbury and York, the church will remain closed until further notice.
Abide by Government advice but stay connected – you can keep up with any live streaming of services, or any blog posts, through our social media. Also, keep looking out for those who may be in need, and help where you can do so safely. Keep supporting charities like the Food Bank and the Light Project, who need us now more than ever.
Above all we need to stand together in solidarity and prayer, recalling God's steadfast love for all his people. As the words on the great crucifix in Peterborough Cathedral remind us, "the cross stands firm whilst the world is turning".
All meetings and events in church have been cancelled for the foreseeable future.
Vicar
The Rev. Jackie Bullen
The Vicarage, 315 Thorpe Road, Longthorpe, Peterborough PE3 6LU
Tel: 01733 263016. Email: This email address is being protected from spambots. You need JavaScript enabled to view it.
Parish Nurse
Eddie Miller
Tel: 07801 436408 Email: This email address is being protected from spambots. You need JavaScript enabled to view it.
For further details see information under Church Life
St Botolph's is committed to safeguarding the welfare of all young people and vulnerable adults.
Safeguarding
Longthorpe Safeguarding Policy
Promoting a Safer Church
(House of Bishops)
Safeguarding Officer: Mrs Claire Drake Tel: 01780 783303