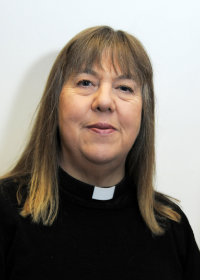 Rev. Jackie Bullen
Vicar
and Assistant
Rural Dean of
Peterborough
Calendar
Sunday 20th June
9.00am Eucharist *
10.00am Families Together on Zoom
6.00pm Evening Prayer on Sunday on Zoom
Monday 21st June
9.00am Morning Prayer on Zoom
Tuesday 22nd June
9.00am Morning Prayer on Zoom
2.00pm Events Team on Zoom
Wednesday 23rd June
9.00am Morning Prayer on Zoom
11.30am Coffee & Chat on Zoom
7.00pm Mission & Evangelism Team on Zoom
Thursday 24th June
9.00am Morning Prayer on Zoom
10.00am Ministry Leadership Team on Zoom
7.00pm Standing Committee on Zoom
Friday 25th June
9.00am Morning Prayer on Zoom
Saturday 26th June
9.00am Morning Prayer on Zoom
* Available on Facebook and YouTube under 'Longthorpe Church'.
Notices
Church Reopening
On Sunday 27th June we will be gathering in church to worship at 8.00am and 9.30am. Please book your place with Jackie Last, if you would like to come along. Her contact details are:
Email: jackie@apsleyway.co.uk
Tel: 07532 457007
Please contact her by email, or by phone between 4.00pm and 7.00pm, Monday-Friday.
Masks must be worn in the building, hand sanitizer is available and we ask that you maintain social distancing of two metres, where possible. Please note that there is no sound system or LOOP at the moment.
Foodbank
The Peterborough Foodbank is currently short of: Long life Fruit Juice, Tinned Fruit, Toilet Rolls, Tinned Vegetables, Men's Toiletries Donations can be left in the boxes in the church porch or in supermarket drop-off containers.
Home
Welcome to the web site of the Parish Church of St. Botolph Longthorpe, which is situated at Thorpe Road, Longthorpe, Peterborough PE3 6LU.

What's going on at St Botolph's Church?
Work is currently being carried out in the church to achieve our project vision, which is:
To undertake urgent renovations to preserve historical features
To allow more inclusive and flexible worship
To become an intimate venue for musical events and support the development of young musicians
To grow as a health and wellbeing 'hub'
To celebrate our history
To improve the church layout for key life events and enable access for all
For more information and the latest progress report see the Our Project web page or the Information Board in the church porch.
Vicar
The Rev. Jackie Bullen
The Vicarage, 315 Thorpe Road, Longthorpe, Peterborough PE3 6LU
Tel: 01733 263016. Email: This email address is being protected from spambots. You need JavaScript enabled to view it.
Parish Nurse
Eddie Miller
Tel: 07801 436408 Email: This email address is being protected from spambots. You need JavaScript enabled to view it.
For further details see information under Church Life