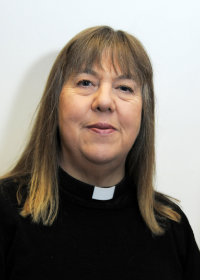 Rev. Jackie Bullen
Vicar
and Assistant
Rural Dean of
Peterborough
CHURCH OPEN FOR PRIVATE PRAYER
The church will be open for private prayer on Fridays from 10.30am-11.30am until further notice.
WW2 Memories
Friday 8th May was the 75th anniversary of VE Day. 

With the current lockdown we were unable to remember those who served in and lived through the second World War in the church building itself.

We therefore asked church members for memories and stories from their own family.  To these we have added research carried out by Imperial War Museum researcher Jane King on men with a Longthorpe connection who died in the war.

Click on this link to read the stories.  They range from the incredibly sad loss of young men killed in action to tales of stoicism and survival.  They include memories of VE Day itself when Victory in Europe was declared.
Jonathan Craymer has written some new, topical words to a well-known war-time tune, which you may like to listen to by clicking here.
Home
Welcome to the web site of the Parish Church of St. Botolph Longthorpe, which is situated at Thorpe Road, Longthorpe, Peterborough PE3 6LU.
In the light of Government and Church of England advice on facing the corona virus challenge we are currently operating in a different way.
  Opening Church for Public Worship
Information for the
Congregation/Attendees at Services
Whilst we understand that this may look rather off-putting to some people, the Church of England has stated from the outset that the safety of people is their primary concern as it is ours therefore all guidelines and regulations have been put in place to try to achieve the safest possible environment for all. The liturgy used during these services satisfies the Church of England's rubrics for acts of worship and contains all necessary elements of a Sunday service. I do hope that you find this information useful when making your decision regarding attendance. A video will be produced and made available on Facebook and YouTube (Longthorpe Church) for your information. Any changes or further details will be sent out as soon as possible.
With every blessing
Jackie
The Rev'd Jackie Bullen
01733 263016
This email address is being protected from spambots. You need JavaScript enabled to view it.
The Services
Two identical services at 08.00 and 09.30 am
C-19 Eucharistic Service
Services will be broadcast live on Facebook and available as a video on Facebook and YouTube later in the day.
Preparation
As space in the church building is limited due to the need to maintain 2m social distancing, the number of attendees is limited to approximately 26 plus the President, a Duty Warden and 2 Sidespersons.
A booking system is in place so that seats can be allocated to each individual, couple or family group. In order to ensure safe distancing for all and to maximise the use of the space, there will be no choice of seating.
All attendees are required by law to wear face masks (except those complying with exemption rules i.e. children under 11, those having a justifiable reason on grounds of health or disability and those leading unless the distance between them and another person is reduced to less than 2 metres). Please bring your own mask if possible. A small supply of face masks will be available on arrival for anyone who arrives without one.
All are requested to bring their own hand sanitiser for use during the service.
Booking System
Jan Bains is the booking clerk. Her contact number is 01733 330483. When calling should you be asked for your name by the caller alert system please reply 'Booking' and press the hash key.
Pre-booking is obligatory. Jan will take bookings each week from Monday 10am to Friday 6pm.
People can choose to come to either the 8am or 9.30am service whilst there is capacity and once the seats are all taken for one service time then Jan will offer them the other service time.
If all seats are taken for one Sunday, Jan will offer those people first chance for the next week. Other than for that reason, prior bookings will not be taken for future weeks.
In order to support the NHS Test and Trace programme, Jan will request contact details for all visitors for each service – name and contact number of individuals, or of the 'lead member' and number attending if there is more than one person from a single household.
In line with guidance issued by the Department for Health and Social Care, we will keep your details safely and in compliance with GDPR legislation for 21 days before securely disposing of or deleting them. We will only share your details with NHS Test and Trace, if asked, in the event that it is needed to help stop the spread of coronavirus. We will not use your details for any other purpose or pass them on to anyone else. We thank you for your understanding.
Jan will prepare a seating plan for each service and this will be available for use by the Duty Warden and Sidespersons to guide everyone to their seats on arrival.
NB if you need a seat cushion, please bring one with you as they will not be available in church.
Arrival
Entry is via the South Cloister (Porch) Door.
Please maintain 2m social distancing at all times.
You will be greeted on arrival and invited to use the hand sanitiser provided.
Please sign the booking sheet next to your name and telephone number. This is part of the Track and Trace system (please see above under the Booking System).
You will be guided to your allocated seat and we ask you to remain there unless invited to move by a Duty Warden or Sidesperson.
The Service
Service sheets will be available on arrival.
The President will explain any procedures during the service.
The distribution will be in one kind (bread) by the President standing in front of the screen. Please remember to maintain social distance from others where possible when moving around. You will be invited to come forward in single file by a Sidesperson starting with those sitting at the front of the church in the north aisle
Please extend your hands as far as possible and the President will do the same to maintain maximum distancing.
After receiving follow the one way system through the cloister to return to your seat unless directed otherwise by a Sidesperson.
Anyone who cannot come forward to receive will be served by the President in their seat as is our usual practice.
There will be no hymns or singing, but music may be played to accompany the service.
After the end of the Service
Please remain in your seat until requested to leave by the Duty Warden or Sidesperson.
Attendees will leave from the front, one pew at a time to ensure 2m social distancing, via the Lady Chapel into the Vestry and exit via the South Vestry Door. Please follow the direction signs.
Service sheets should be deposited in the collection box in the vestry.
On leaving please either wash your hands or use the hand sanitiser provided.
Please do not gather in groups after leaving the church and keep the exit clear.
Vicar
The Rev. Jackie Bullen
The Vicarage, 315 Thorpe Road, Longthorpe, Peterborough PE3 6LU
Tel: 01733 263016. Email: This email address is being protected from spambots. You need JavaScript enabled to view it.
Parish Nurse
Eddie Miller
Tel: 07801 436408 Email: This email address is being protected from spambots. You need JavaScript enabled to view it.
For further details see information under Church Life
St Botolph's is committed to safeguarding the welfare of all young people and vulnerable adults.
Safeguarding
Longthorpe Safeguarding Policy
Promoting a Safer Church
(House of Bishops)
Safeguarding Officer: Mrs Claire Drake Tel: 01780 783303