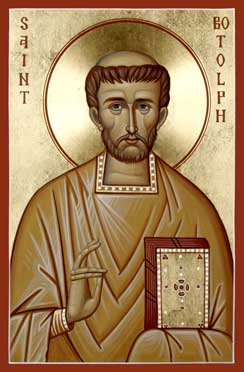 Copyright © Holy Transfiguration Monastery,
Brookline, MA.
Used by permission. All rights reserved.
Events
Pilgrim Course on the Ten Commandments
Wednesday 21st September at 7.30pm and the following five Wednesday evenings
Harvest Festival
Sunday 2nd October at 9.30am.
Open Afternoon
Sunday 2nd October from 2.00pm to 4.00pm.
Confirmation of Young People
Sunday 2nd October at 6.00pm
Home
Welcome to the web site of the Parish Church of St. Botolph Longthorpe, which is situated at Thorpe Road, Longthorpe, Peterborough PE3 6LU.

At St Botolph's we seek, together with all other Christians, to be followers of Jesus Christ. Whether you have been a regular churchgoer or not, you are very welcome at any of our services, and we trust you will find peace, joy and friendship with us.
After 24 July 2016, there will be a vacancy, following the retirement of Canon Bill Croft as Priest in Charge of Longthorpe Church. Any mail sent to the Vicarage at 315 Thorpe Road, Peterborough, PE3 6LU, will be collected and responded to. Messages may be left on the Vicarage telephone number: 01733 263016.
Parish Office
The Parish Office is open from 7.00pm to 8.00pm on Wednesdays for baptism and marriage applications.
Parish Nurse Office
Wednesdays 9.00am to 10.00am.
How to find us