Journeying with Matthew through Lent
Starting with Ash Wednesday (1st March), there will be a Eucharist service at 7.30pm on the Wednesdays during Lent. Chapters of Matthew's Gospel will be read in order at each service, so that the whole of the Gospel is read sequentially before Easter.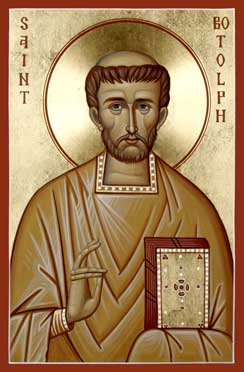 Copyright © Holy Transfiguration Monastery,
Brookline, MA.
Used by permission. All rights reserved.
New Vicar
It was announced on Sunday 11th December that the Revd Jackie Bullen has accepted Bishop Donald's invitation to be Vicar of Longthorpe. She will be Instituted and Inducted by Bishop Donald on 1st April at 3.00pm. Please pray for her and her husband, Neil, as they prepare to move to Longthorpe
Home
Welcome to the web site of the Parish Church of St. Botolph Longthorpe, which is situated at Thorpe Road, Longthorpe, Peterborough PE3 6LU.

At St Botolph's we seek, together with all other Christians, to be followers of Jesus Christ. Whether you have been a regular churchgoer or not, you are very welcome at any of our services, and we trust you will find peace, joy and friendship with us.
As we are currently in a vacancy, any mail sent to the Vicarage at 315 Thorpe Road, Peterborough, PE3 6LU, will be collected. The Vicarage telephone answer machine number: 01733 263016 will provide the telephone numbers of the churchwardens , messages should not be left.
Parish Office
The Parish Office is open from 7.00pm to 8.00pm on Wednesdays for baptism and marriage applications.
Parish Nurse Office
Wednesdays 9.00am to 10.00am in the cloister at St Botolph's.